Affiliates:
Welcome to the affiliate page. Here are all the incredible sites that go along with Danielle Cormack. There are many Xena: Warrior Princess websites for everyone. There are websites that include: forums, pictures, screencaps and wallpapers. To become an affiliate contact me via e-mail with your link and banner.
---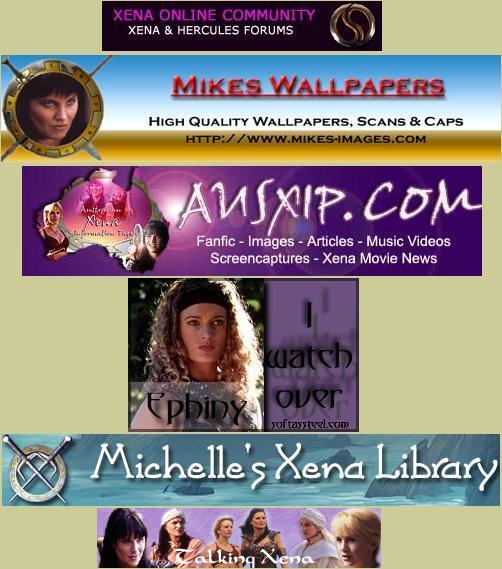 Starter Links:
The Danielle Cormack Official Fan Club
This homepage is intended to keep all of Danielle's fans informed of her latest projects and appearances, as well as let you know how to join her fan club!
---
Danielle Cormack - IMDb
Danielle Cormack is a leading light in contemporary New Zealand cinema, having made the transition to the big screen after a successful career in television. Appearances in soap operas in her native country led to her becoming a household name, but Cormack chose to leave behind the security of an ongoing role and instead did a lot of work in theatre, both in her native Auckland and also on tour domestically and abroad. Playing a recurring guest character in 'Xena: Warrior Princess,' a US TV production filmed in New Zealand, brought Danielle an international fan base at the same time that she was establishing herself in successful independent film productions in her own country, and she has attended the Cannes Film Festival on several occasions to promote her performances in these critically acclaimed works. Danielle has commented on more than one occasion that she is drawn to acting parts that contrast with previous work, indicating that likes the challenge of breaking new ground professionally, and she continues to show considerable range in her chosen roles. She also finds time between her many film and stage commitments (and the responsibilities of being the mother of a young son) to attend fan conventions in the US and other countries, where she is a much-loved guest speaker regarding her 'Xena' appearances and evidences real talents for comedy and improvisation in these settings. She has considered relocating to either the UK or the US to further her career opportunities, but for now seems content to remain in New Zealand and continue to exemplify the community of tremendous acting and production talent that resides there.
---
An Interview with Danielle Cormack at Whoosh.org
Danielle Cormack is best known to Xena viewers as the Amazon Ephiny, whose character debuted in HOOVES AND HARLOTS (#10). But also in the Xenaverse, Danielle Cormack played the "Chartreuse Fox"/Lady Marie in the Hercules: The Legendary Journeys episode LES CONTEMPTIBLES (#H53). An accomplished actress on stage and screen before and since her Ephiny role, Whoosh! was fortunate enough to catch up with Ms. Cormack via telephone on June 5, 1997 and ask her some questions. She had just returned from Cannes, promoting a recent film in which she had a starring role, only to find her house had been burglarized in her absence. Amidst the attendant chaos of strangers in the house and caring for her new baby, she still graciously took time to answer questions and talk about her work, past, present, and future.
(C) Bret Ryan Rudnick
---
Danielle Cormack - Yahoo! Page
Describes Danielle's movie work with pictures from The Price of Milk.
---
The Links:
Xena Online Community
A forum for all Xenites! Branches from http://www.xwponline.net . Chat with many incredible people here!
---
Mikes-Images
An amazing site with hundreds of screencaps from Xena: Warrior Princess and Hercules: the Legendary Journeys plus awesome wallpapers.
---
Australian Xena Information Page
An information website with just that, tons of information on all the actors and actresses from Xena: Warrior Princess. Includes sites for Lucy Lawless and Renee O'Conner.
---
SoftAsSteel
Goes into a fun website for everyone with avatars, dolls, wallpapers, and pictures for all Xena: Warrior Princess characters.
---
Michelle's Xena Library
A huge website with many pictures from each season of Xena: Warrior Princess.
---
Talking Xena
Another forum for Xena fans! A fun place to go and talk about everything Xena!
---